Cheese can easily be a part of a healthy diet. Cheese products are made from milk, which is stuffed with good-for-you nutrients like calcium and protein. Yes, cheese can be high in saturated fat, and the American Heart Association recommends only 5% to 6% of your calories come from saturated fat—typically an estimated 13 grams. However, if you were to choose where that saturated fat should come from, cheese is a great option given all of its nutritional (and delicious) benefits.
From cheesy appetizers to easy dinners and even breakfasts, here are a few of our favorite surprisingly healthy cheese recipes. Then, for more cheesy goodness, check out Our Guide to the Best Healthy Cheeses.
It's like the viral TikTok Feta Pasta, but healthier! To make this dip you roast together feta and cherry tomatoes, but instead of adding pasta, you mix it together with basil and dip veggies or whole-wheat pita into it. Makes for the perfect appetizer!
Get our recipe for Baked Cherry Tomato & Feta Dip.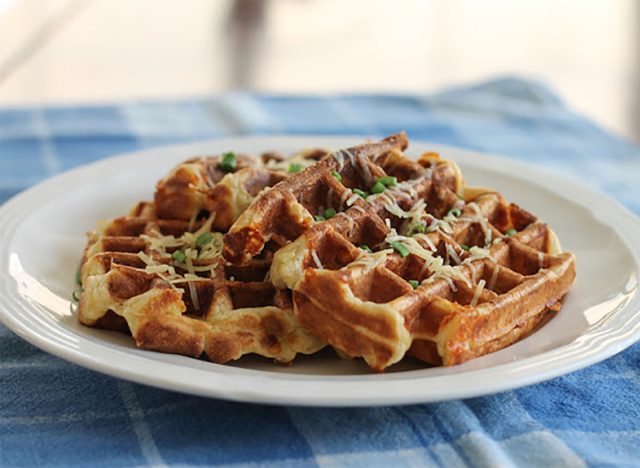 If you're looking to cut down on your carbs, these cheese waffles don't require any flour and ramp up the protein of your breakfast thanks to the main two ingredients—cheese and eggs. You can enjoy these cheese waffles with savory toppings or sweet toppings, it really goes both ways!
Get our recipe for Cheese Waffles.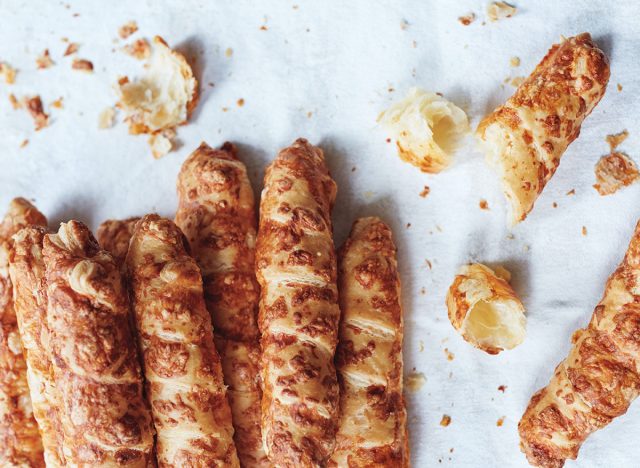 This is the type of snack that is sure to impress your friends, yet only requires you to buy five ingredients! This recipe calls for gouda cheese, but you could always experiment with different kinds—like cheddar or parmesan.
Get our recipe for The Ultimate Cheese Straws.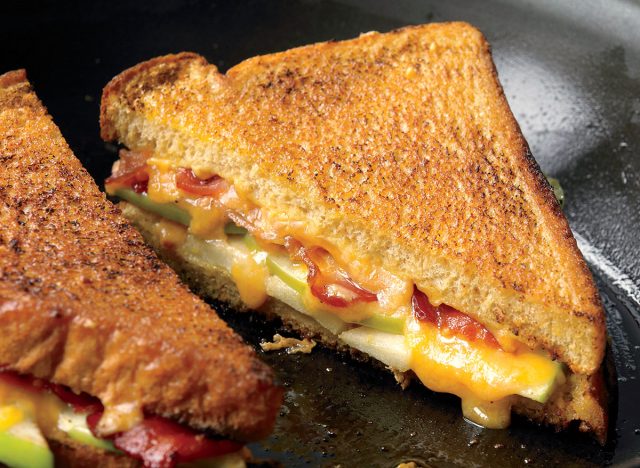 Upgrade your usual grilled cheese by giving it an extra boost of fiber and protein! Apple slices add in a touch of sweetness while also giving your sandwich an extra boost of fiber, and it pairs well with salty slices of bacon that bring in some satiating protein. This sandwich will leave you feeling full for hours!
Get our recipe for Apple and Bacon Infused Grilled Cheese Sandwich.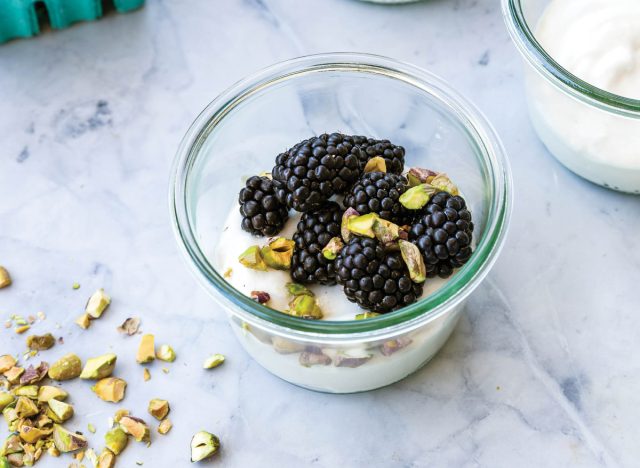 Have a container of cottage cheese to use up, but not sure what to do with it? Make this delicious snack by blending cottage cheese and sugar-free maple syrup, giving it a whipped consistency. It is the perfect sweet treat for an afternoon—especially when topped with your favorite berries and nuts.
Get our recipe for Whipped Cottage Cheese With Berries and Pistachios.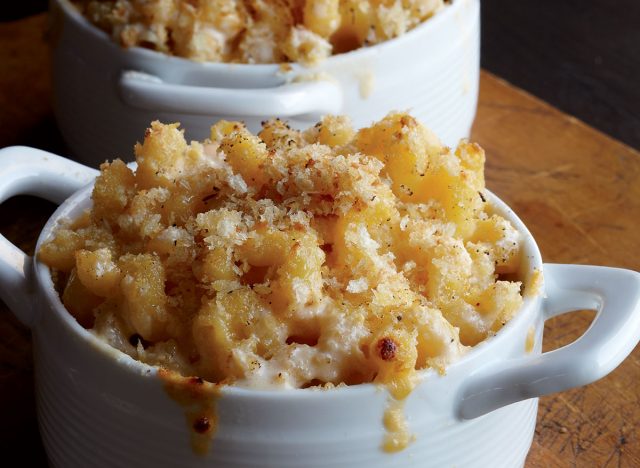 We keep this mac and cheese recipe light by relying on a homemade rue (a sauce made with butter, flour, and milk) instead of drowning the recipe in heavy cream, then thicken it up with Greek yogurt. This recipe will work for any kind of short pasta such as macaroni, fusilli, or cavatappi.
Get our recipe for Healthier Mac and Cheese.
For an easy appetizer that doesn't require your oven or stove, these stuffed peppadew peppers will be a hit at your next gathering. All you need are peppadew peppers, olive oil, basil, and goat cheese, then a sleeve of crackers or slices of grilled bread for serving!
Get our recipe for Goat Cheese Stuffed Peppadew Peppers.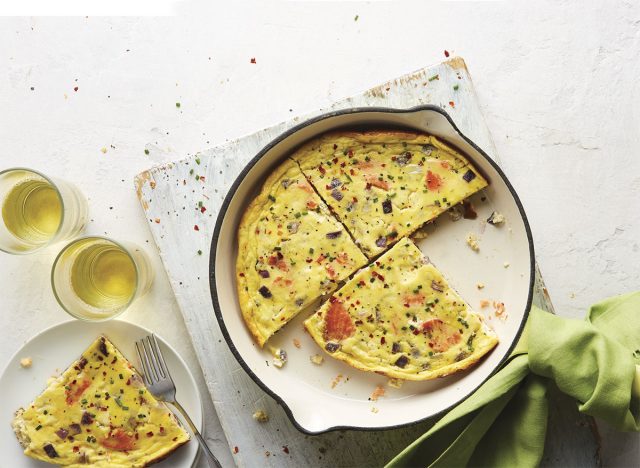 If you're a fan of spreadable Boursin cheese then you are going to love this frittata, baked with thin slices of smoked salmon to give you a boost of omega-3 fatty acids in the morning—or even lunch!
Get our recipe for Healthy Smoked Salmon and Boursin Cheese Frittata.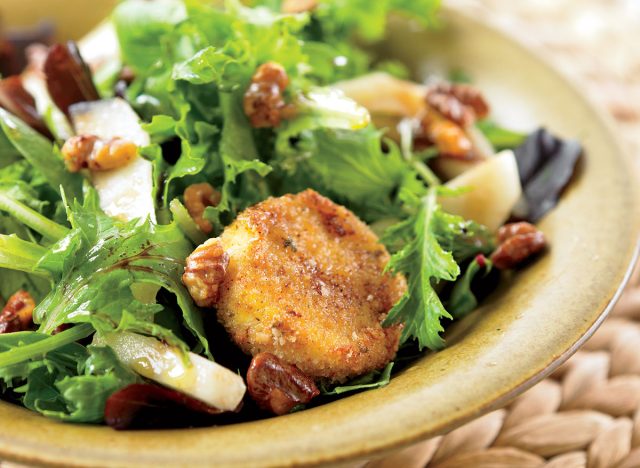 A little warm, crispy ball of cheese on a fresh green salad? How could you say no?
Get our recipe for Warm Goat Cheese Salad.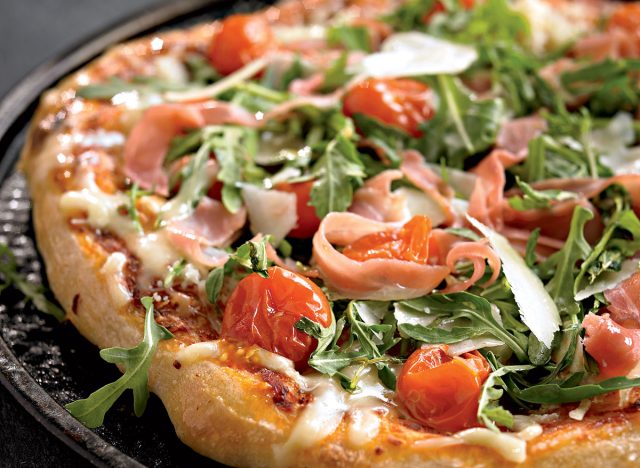 While pizza is always a great go-to recipe for cheese lovers, this recipe gives the typical pizza a different spin with salty slices of prosciutto and topped with fresh arugula. And of course, shaved Parmesan sprinkled on top for an extra cheesy kick.
Get our recipe for Arugula and Prosciutto Pizza.
If you're a fan of Caprese salad (tomato, mozzarella, and basil), then this dish will be your new best friend. With big chunks of fresh mozzarella, dough gnocchi, herby pesto, and lots of fresh veggies, it's the perfect filling dish that works well for cookouts—or even for a lunch meal prep!
Get our recipe for Vegetarian Pesto Gnocchi with Green Beans and Tomatoes.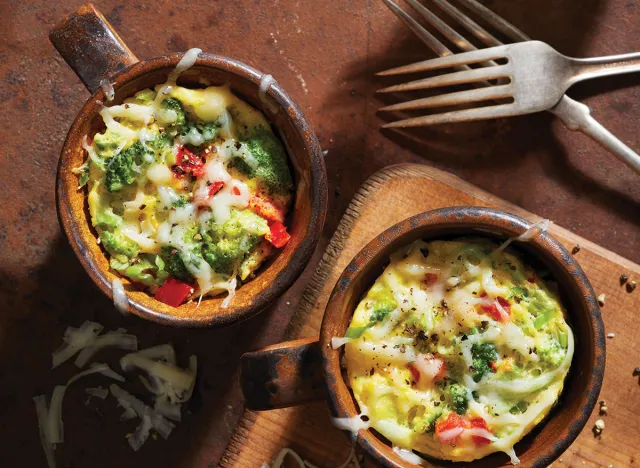 Although a frittata works well for a crowd, or even as a meal prep for the week, sometimes you're not always in the mood to bake a big meal during the day—so the microwave will do. These microwave eggs will have you dipping into a cheesy one-serving frittata in a matter of minutes in the morning.
Get our recipe for Easy Broccoli-Cheese Eggs in a Mug.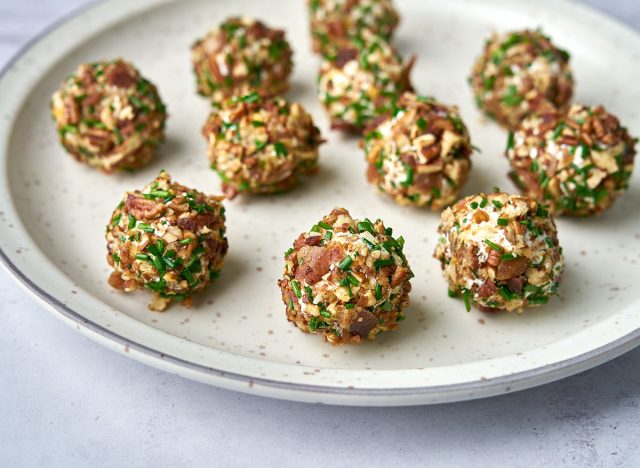 This salty, savory, cheesy snack works well for any kind of event you're hosting. Watching the game? Hosting a dinner party? It's versatile for any context.
Get our recipe for Crunchy Cheese and Ranch Pinchos.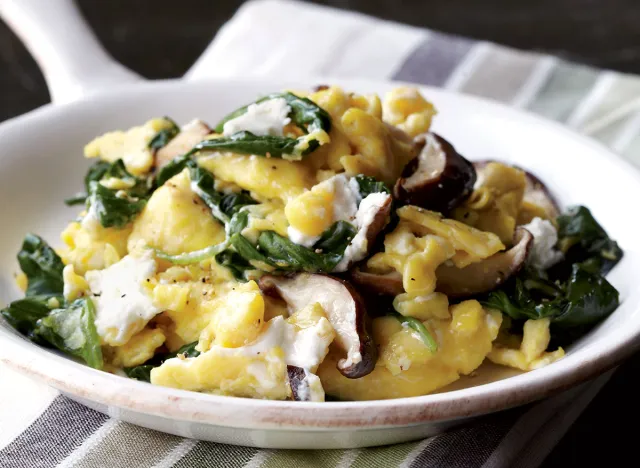 Scramble up the leftover mushrooms and spinach in your fridge with this easy veggie scramble, stuffed with dollops of creamy goat cheese.
Get our recipe for Veggie Scramble With Mushrooms, Spinach and Goat Cheese.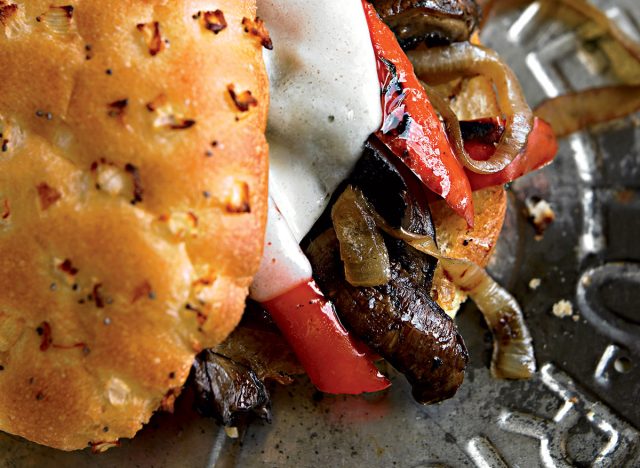 Looking to eat more plants during the week? Swap out the normal cheesesteak sandwich or burger and make this mushroom cheesesteak instead, topped with slices of provolone and sautéed onions and peppers.
Get our recipe for Mouthwatering Mushroom Cheesesteak.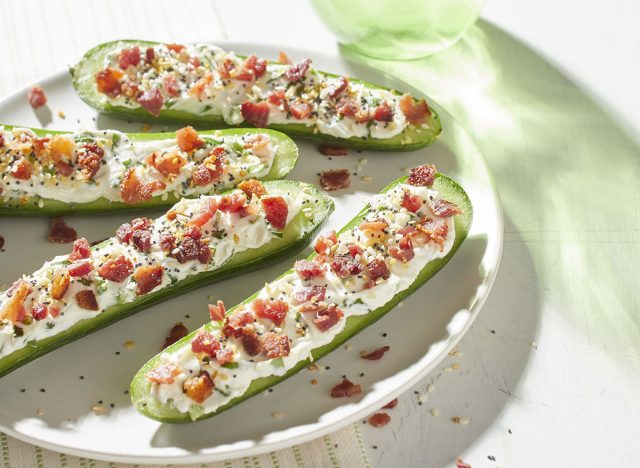 Another easy low-carb appetizer to serve, or snack to enjoy! Slice up cucumbers and scoop out the pulp, then stuff with cream cheese, chives, bacon, and everything bagel seasoning.6254a4d1642c605c54bf1cab17d50f1e
Get our recipe for Everything Cream Cheese Cucumbers.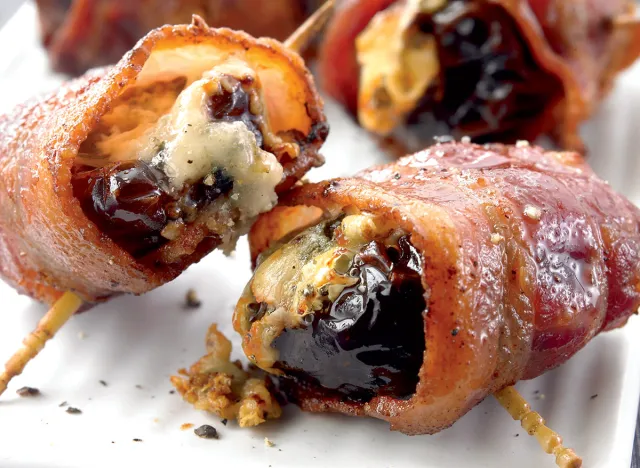 The sweetness of the dates and the saltiness of the bacon pair perfectly with the stinky (yet delicious!) blue cheese.
Get our recipe for Bacon and Blue Cheese Stuffed Dates.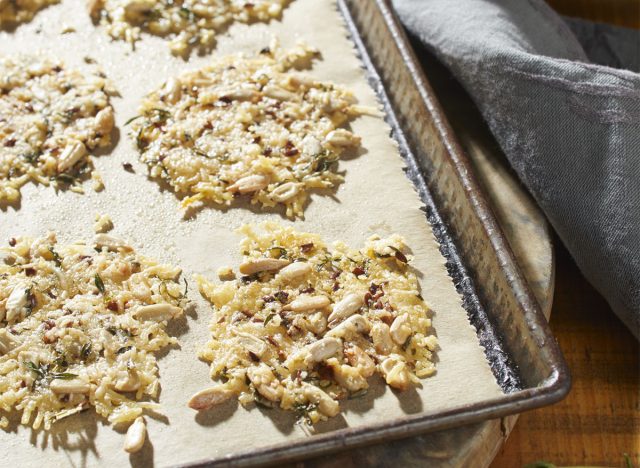 Get our recipe for Pecorino-Romano Crisps with Thyme.
For a crispy low-carb snack, make these easy cheesy crisps! All it takes is a quick mix of pecorino-romano cheese, thyme, red pepper, and a few different seeds. Then they are pressed into "crackers" and baked in the oven until golden and crispy.