The LA Blade's intrepid Washington D.C.-based mostly White House correspondent snarks his way through a different mouth watering weekly recipe even though dishing tea on other subjects…
WASHINGTON – Final 7 days, my partner and I moved out of our 1-bed room apartment and into our 1st property in Northeast D.C., which is why I did not publish a food items column final week. 
I hope you'll forgive me, but I am continue to recovering from the trauma (which, in my head I am saying like Jamie Lee Curtis) even though I had leveraged what I am now calling my "bottom privilege" to delegate the much more complicated tasks to my husband or wife. Moving the genuinely major things, driving the 15-foot U-Haul, mounting the TV…you get the strategy. 
Currently, I am experiencing a recurring nightmare in which, as we're leaving the condominium for what we recognize to be the final time, instantly I know we had neglected to go by and pack the contents of our "junk drawer." 
You have a single, also. It is the shallow drawer directly underneath your kitchen countertop exactly where you shop some factors you need – batteries, pamphlets for your appliances, etc. – and additional things that you really do not – pesos from your final excursion to Tulum, stretched out rubber bands, your previous Iphone 5, a Blackberry that you don't bear in mind at any time possessing.
So, in my dream, from this drawer I get started pulling out cords. USB chargers, HDMI cables, you title it. Like a clown doing the handkerchief trick at a kid's birthday occasion, it under no circumstances stops. I am midsection-deep in the cords. And my spouse, who is not able to explain why we have to continue to keep them or what function they will serve in our new household, will not allow me toss them absent. 
Will I at any time be no cost? Or will the morass of plugs and rubber sheathed wires comply with me to every domicile I occupy for the relaxation of my times whilst also haunting me as I rest? Are the cords, menacing and anthropomorphized as they are in my nightmares, a unconscious manifestation of my irritation with the tempo of technological innovation in significant language product AI programs? 
Sadly, I am unable to talk to my therapist for answers for the reason that moving has depleted not only our sanity but also out bank accounts. It's these types of a depressing knowledge that – and this is a common working experience – at some point you start out wantonly throwing all your belongings into the trash with no a next assumed about the value of replacing them or even a modicum of appreciation for their monetary or sentimental worth. 
As I explained, trauma. 
Thanks for letting me get that off my upper body. In any case, let us start. 
In recent weeks, I have shared many sweet-but-not-far too-sweet baked items from Alison Roman's most recent entrée into the cookbook video game, "Sweet Ample." (I had superior anticipations, and lemme inform you, they ended up surpassed. Bravo, Alison.) 
This semolina cake with lemon and fennel is, to be sure, diverse from the seedy breakfast cake I created three months in the past, but they have a several crucial characteristics in widespread: 
To start with, no just one will search at you sideways for taking in a slice in the early morning, but they're excellent any time of day or night time. Next, they are texturally interesting, and I indicate that in the most nice feasible way. 3rd, they both of those contain fennel seeds, which in the taste office lends a certain je ne reported quoi sophistication to every single. And finally, they are rather damn easy to make.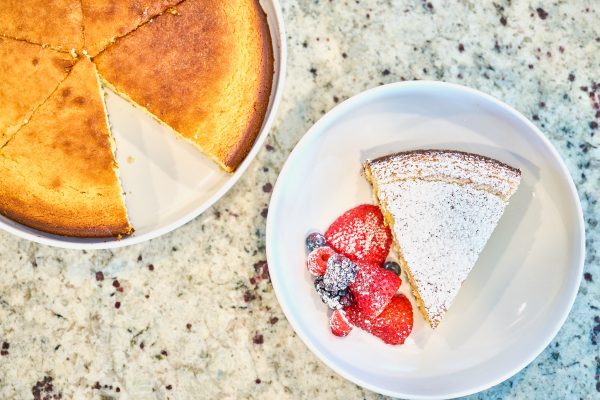 Preheat oven to 375° F. Spray a 9" cake pan with cooking spray and line the bottom with a spherical of parchment (I had excellent success working with a slightly more substantial springform pan.) 
In a medium bowl, use your palms to blend 1.25 cups white granulated sugar, 2 tablespoons lemon zest, and 1 teaspoon fennel seeds, crushed in a mortar & pestle or finely chopped
Whisk in 1 cup entire-milk yogurt (not Greek, not skim-milk. Alison is very very clear about this, which signifies it is crucial) and 2 large eggs
In a large bowl, whisk collectively 1 cup all-objective flour, ½ cup semolina flour, 1 tablespoon baking powder, and 1 teaspoon Diamond Crystal kosher salt
Insert wet components to dry substances, together with a 3rd-cup neutral oil, and combine right up until well combined. Pour the batter into your cake pan and bake till golden brown on major, about 30-35 minutes
Dust with confectioner's sugar and serve with clean fruit, if ideal. Fruit dusted with more confectioner's sugar, if desired.