The city placed 27 restaurants — with the province landing 34 in total — on this year's list, including No. 1 overall.
Article content
Our chests can swell — literally and figuratively — with civic pride. On the culinary front anyway. Montreal rocks and rules on the 2023 edition of Canada's 100 Best Restaurants list.
Article content
The city placed 27 restaurants — with the province landing 34 in total — on this year's list. That's over one-third of the entire list and a 21 per cent increase from 2022.
Article content
Better yet, we're No. 1 with Vanya Filipovic and husband Marc-Olivier (Marco) Frappier's always-buzzing Little Italy eatery and wine bar Mon Lapin taking the honour, the first Montreal restaurant to lead the annual list since Normand Laprise's Toqué! took top spot in the 2015 and 2016 lists.
Equally gratifying was seeing co-owner-chef Ari Schor's tiny Verdun food haven Beba finish in the eighth spot.
It's worth noting that the Filipovic/Frappier tandem and Schor all emerged from the Joe Beef/Liverpool House/Le Vin Papillon mini-resto conglomerate on Notre-Dame Street. Filipovic handled wine selections for the three; Frappier was the Vin Papillon chef; and Schor was head chef at Liverpool House. All credit their former bosses, the now-retired David McMillan and Frédéric Morin, for helping pave their ways.
Article content
Not that Montrealers would want bragging rights or anything, but Toronto landed 18 restaurants —­ and Ontario overall had 30 — on this list, voted upon by 135 judges and assembled by ex-Montreal and current Torontonian editor-in-chief Jacob Richler, foodie son of Mordecai.
And give Vancouver props in placing four spots in the top 10.
Last year, Filipovic and Frappier were thrilled to have placed sixth on the list. They're over the moon now.
"It's a little overwhelming," Filipovic said in a phone interview, just after flying home from learning the news in Toronto. "We're delighted, but honestly we never think about having that kind of goal in mind. We're just doing something we love to do, have always loved to do. We decided to open a neighbourhood spot and we really want to remain a place that welcomes its neighbours."
Article content
And they have certainly succeeded there. Check out what Condé Nest Traveler had to say about the place: "Mon Lapin has that best-kept secret, intimate neighbourhood vibe."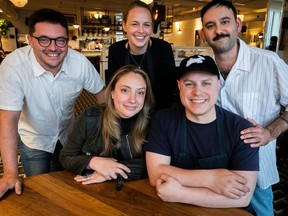 Even with the pandemic taking its toll over the last three years, Filipovic never complained. The business is in her blood.
"It seems like I've been in this business my whole life. I don't remember a time when I wasn't in it. It was an incredible 15 years for me with the Joe Beef group in that little universe. And now five years at Mon Lapin."
There were reservations available on the Mon Lapin website Tuesday morning. But it's an excellent bet there won't be any for months to come now.
Mon Lapin provides one of the more fascinating food-and-wine offerings and pairings around town. Frappier's menu — which changes daily — is rife with creations all over the map, and Filipovic's wine choices are superb:
Article content
"It's all about conscientious well-made wines. I have no desire to support industrial wines. Nor do I have any desire to eat industrial food."
The resto has been enlarged inside, now able to accommodate 60 patrons.
"We felt that we really needed to listen to the new space, which clearly wanted to be a restaurant, not a jam-packed wine bar with a line out the door, which was its first iteration. The spirit of that still resonates in the walls, but both we and the restaurant have really grown up since we first started. The only item still on the menu from our beginning is the buckwheat honey layer-cake. Can't take that off.
"Mostly, it's just so much fun for us now. I still feel like we're learning every day. It's really like an amazing playground for us here."
Article content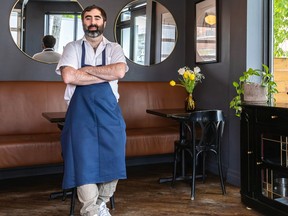 Schor, Beba's ever-stoic co-owner/chef, also had to pinch himself after learning that his cozy little eatery, tucked away in Verdun, emerged as No. 8 on the list.
"We've improved by half," cracked Schor, also just back from Toronto and learning the news. "Last year, we were 16."
Schor, who runs Beba with his brother Pablo, couldn't have foreseen any sunny skies three years ago. They opened Beba in the late summer of 2019, having sunk their life savings, $200,000, into the spot. Seven months later COVID-19 came and they had to shut down. On top of that, Ari's daughter Izzy was just born.
"I contemplated becoming an electrician or a refrigeration specialist, something, anything, to pay the bills," Ari recalled. "We poured everything we had into this place. But I'm so glad we stuck to our dream. For lack of a better phrase, the proof is in the pudding now."
Beba, which seats only 28, is special by anyone's standards. Its mouth-watering fare is unique, shaped by Ari's Argentinian roots, his travels throughout South America and Europe and living in the Prairies before moving here.
"My very favourite restaurants are reflections of the owners, especially when you're talking about a chef-driven restaurant like ours. This restaurant is a reflection of us. We serve what we like, what is close to our hearts. We wear our identities on our sleeves. We can't be put in a box, and we like it that way."
But no issues at all about being put on a list like this.
Article content
Montreal restaurants on top 100
It would almost be easier to name the Montreal restaurants that didn't make the top 100 list than those that did.
Among many of those acclaimed local restaurants included on the list are:
Cabaret L'Enfer was also No. 2 on the best new restaurant list.
For the entire Canada's 100 Best Restaurants list, go to canadas100best.com.